Sans sofa for home comfort in public space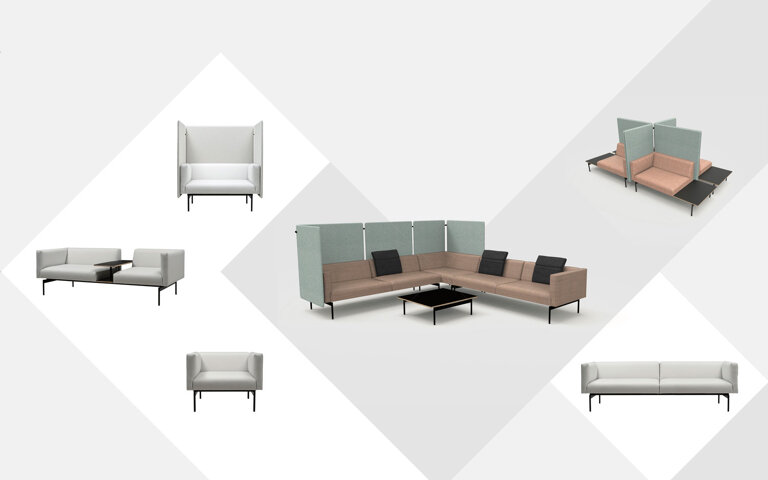 Designed by our in-house designer Argo Tamm, it offers home comfort to work environments. Find out more what inspired Argo to create Sans.
1. Tell us a bit about how did the design for Sans come about.
The insight came from customers and sales that we need a series of sofas with big modularity and movable walls so people could add them to increase privacy and enhance acoustics if necessary.
2. What sets Sans apart from other public space sofas?
Sans is certainly more comfortable because we have used Dymetrol fabric in the seats. Dymetrol is a strong but yet light fabric used for tough environments, for example, airplane seats. We chose this fabric instead of zig-zag springs because it increases comfortability and helps to keep the seat pillows light and thin.
A variety of back pillows, modules, and tables allows to turn Sans into exactly the item of furniture needed for work and activities – whether that be a private corner with high walls, a little island in the middle of open space or one of the numerous other options.
3. You have designed mostly home line for Softrend. How did this experience influenced Sans?
The main emphasis for home furniture is comfort. Usually, public space furniture is not most comfortable to sit in for a long time, that is why Sans is a perfect addition to work environment areas.
Designing Sans, I wanted to merge those two – sofa with a design that is suitable for public space but which has the comfort of a home sofa. Thinking of that I created separate pillows that you can add to regulate the seating depth or just make yourself feel more like at home.
4. Why did you decide to name the sofa Sans?
The name is inspired by typography where Sans means font without serifs. It's modern and minimalist without any decoration. In that idea I created also the Sans sofas – I took off everything extra and kept only pure forms that bring out the proportions.
See the products: