Save the planet – choose recycled fabrics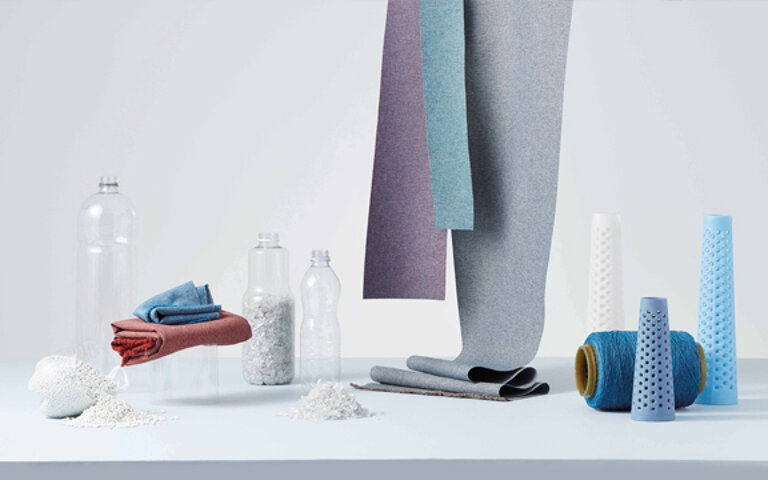 Making sustainable and conscious choices is increasingly important for the health of our planet. Let us introduce you to some recycled fabrics from our contract fabric selection that are doing their part in saving the environment – Kvadrat's Revive and Camira's Rivet. This is the story of an exceptional textiles made from a most unlikely raw material: the everyday, common, plastic bottle.
The technology used to turn PET plastic into polyester yarn is fast becoming the most efficient and versatile method of recycling plastic bottles. Because PET plastics can be hard to clean they are rarely reused for the same purpose, which means that new uses must be found and polyester yarn is one of the most promising ones.
Did you know?




It takes just 22 plastic bottles (500ml in size) to make one meter of fabric.
Both Kvadrat and Camira use a specific recycled yarn called REPREVE that was developed in 2009 and is produced by American company Unifi.
The process of making the yarn is straightforward; post-consumer plastics are chopped, ground, melted and formed into flakes. At this stage a flame retardant chemical is added. Polyester chips are made, heated and extruded and the result is a 100% recycled yarn ready for dying and weaving.
Textiles made from recycled waste have the potential to make a genuine impact on the global environment: consider the reduction in landfill, the preserved energy that might have otherwise been channeled into producing traditional synthetic materials and the resources that are used to make natural ones. Here is a functional and useful alternative for our waste plastics.
Make a sustainable choice and order you next Softrend pieces with recycled fabrics!
Picture source: Camira