How to choose the perfect sofa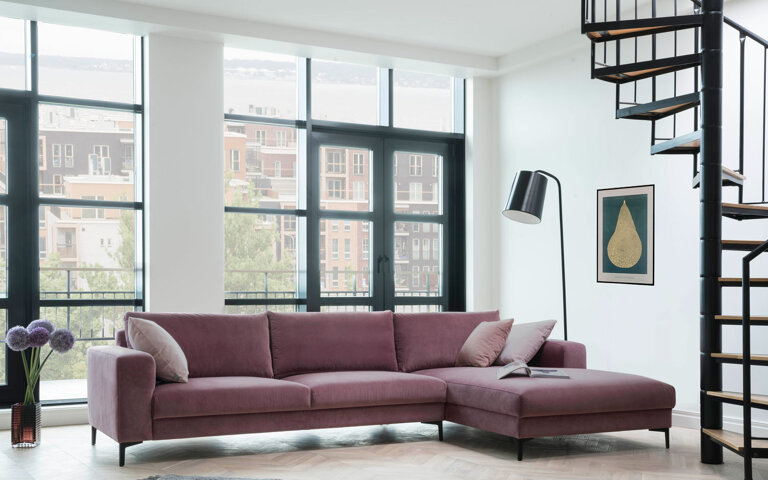 To each their own sofa
"We encourage visitors to our showrooms to sit on lots of different sofas to see which one suits them best," explains Softrend marketing manager Kerttu Raie when describing the principles behind picking the right sofa.
The best option is always the one that will match your home's interior and your family's lifestyles, and take both kids and pets into account. Is it a modular sofa you're after? Perhaps a reclining sofa will be more to your liking – they're very popular right now. Or maybe a sofa sleeper with a matching armchair? Softrend has all the bases covered.
"Reclining sofas are definitely on-trend at the moment, but you need to think of them like built-in kitchen furniture, because they're not particularly movable," Kerttu cautions. "If you want something you can move around from time to time, you might want to go for a combination of sofas, armchairs and poufs." When choosing a sofa you should be guided by the needs and habits of the people who'll be using it – will you mostly be sitting or stretching out on it? Also important are the height of the backrest and the depth of the seat, since everyone feels these things differently.
It's what's inside (and underneath) that counts
"Our customers tend to go for sofas with springs in them where there's a layer of polyurethane foam or memory foam on top," Kerttu says. "Memory foam in particular is really comfy to sit on. Then there's the cushions, which can be filled with either polyurethane or feathers. Polyurethane sofas tend to be firmer and squarer, more concrete in shape. All the fluffing and beating in the world won't make them any rounder. Feather cushions are lovely, and great to lie on, but you do have to beat them from time to time or they'll lose their shape."
What's going on underneath the sofa shouldn't be overlooked either: its legs. The Softrend range includes legs in different styles and with different finishes, including timber, painted and chromed metal. Since many modern homes employ robot vacuum cleaners and it's important for them to be able to get under a sofa, people of late have started opting for sofas on legs. Of course, 'low-lying' models still feature in the Softrend range.
Cloth maketh the sofa
"Our range includes both modern and more classical sofas, but more often than not it's the fabric the customer chooses that determines how the sofa looks," Kerttu explains. "That's why our showrooms always have a few sofas with patterned fabrics, including flowers, to give people an idea of just how much a piece of furniture like that can pop."
When ordering a sofa it pays to invest in a high-quality cover material that will still look good years down the line. Families with children and pets often choose models with removable covers so that, if needed, they can wash the covers at home or at a laundromat or get them dry-cleaned. Softrend offers an extraordinarily wide range of cover materials in different price classes and with different components, the most popular being those which are easy to keep clean.
"Our range includes quite a few fabrics that use stain-proof technology," Kerttu says. "They're not only easy-clean, but also very durable when it comes to wear and tear. You can steam-clean them, and not a single, solitary bacterium will find its way into the material, which means they're ideal for people with allergies."
Kerttu says that finding the right sofa takes time. "You really need to dive into the broad choice of models, sizes, cover materials and fillings we offer here at Softrend before you make your decision," she advises. "We're more than happy to show and explain our furniture to customers down to the smallest detail. Just come in and ask!"