How to furnish a contemporary office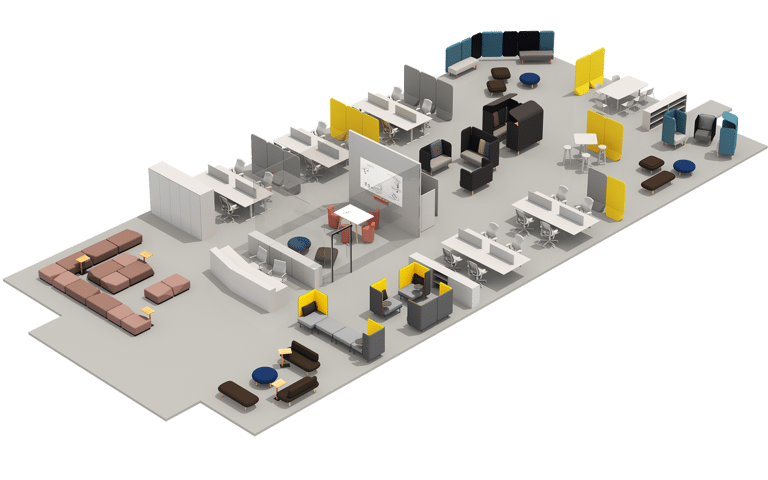 The changing ways in which we work mean that people need to be able to take themselves aside and focus, work together and develop new ideas and relax and talk freely. So how do we create workspaces that people want to come to and are in no hurry to leave?
Little is the new big!
For a long time it was thought that 15-20 m² of space was needed per person in an office, but now around 10 m² is considered sufficient by most. New ways of working mean less paper, and less paper means fewer cupboards, shelves and drawers. Surveys have shown that around a third of workers are mobile: they do much of their work at home, on site with the client or sometimes in the air or hunkered down in a hotel. This in turn has led to a situation where as much as half the time, traditional desks and meeting rooms sit empty. But if you're clever in the way you set up a smaller office, it can actually seem more spacious and open. Refurbishing an office can be an expensive undertaking, but in the long run it can allow you to save on space costs and gain from increased productivity.
Home office
If the atmosphere in a workplace is congenial, it gives staff a stronger sense of connection to their work and inspires them to do it. For many, however, quick communication and convenient technical solutions are more important than a fixed workspace in the traditional sense. When you're in an office, it's important that the space is activity-based. For the most part this means that a modern office should be open-plan, but at the same time still offer a variety of meeting rooms, a cosy corner with comfy furniture that calls to you to sit on it, secluded spaces for focussing on tasks or making phone calls and hot-desking options for those who need them. Just like at home, in a modern working environment there should be separate 'islands' for getting together, working apart, kicking back and relaxing over meals. A warm choice of materials and colours will make an office feel more like home.
Repositionable furniture
Since a lot of people's work is not restricted to sitting at a desk all day, traditional office chairs have started to be replaced by poufs, armchairs and other comfortable seating. The aforementioned reduction in the amount of space for each worker has accentuated the importance of furniture that can be easily repositioned. For example, in place of (or in conjunction with) the usual desks, small, light side tables have started to appear which are ideal for sofas and armchairs and can be used when working on a computer. In lieu of drawers and shelves, handy storage spaces or pockets can be included in, or attached to, such mobile furniture.
Acoustic products
Although openness, spaciousness, comfort and convenience are important in a modern office, it remains vital that there are spaces where people can still focus on their work. Acoustic products, for instance, can help to regulate noise levels. The term takes in much more than just wall and floor coverings: screens, space dividers, high-backed sofas and armchairs and even acoustic cabins are becoming common features of offices. Mobile sound-dampening space dividers can work wonders in small offices, providing opportunities to quietly focus on your work or even create a pop-up meeting room.